About the Pilates Lounge
The Pilates Lounge is a boutique wellness studio located in Zetland, which is an exciting growing new hub.
The studio is close to great cafes (Allpress, Grandma's, Eden, Koskela Kitchen, Black Star Pastry) and shops (East Village and Danks Street). 
Hansard Street is easy for parking as well as very close to public transport.
At The Pilates Lounge we offer a unique approach to The Pilates method. We are committed to giving our clients the full experience of the strength, power and excitement of the Classical Romana method. But we can also offer comprehensive injury rehab.  So you are getting the best workout wether it is rehab or dynamic, a workout that is tailored to your needs. 
Our approach to teaching is focused on quality of instruction and specialises in one on one / duet pilates training, this ensures proper technique is taught and safety is maintained.
This is where we differ from the type of pIlates taught in gyms or larger group studio classes where exercises are taught slowly around the room but you are not being individually corrected or given exercises tailored to your needs.. At the studio our attention is on you the whole time. We believe the most effective results and the greatest satisfaction is achieved when we treat everyone based on individual needs.  
All our Instructors are highly qualified and very experienced. We are dedicated to servicing those at all fitness levels, from the injured to the professional athletes.  The Pilates repertoire is most effective and safe method of exercising.  You will finish your sessions feeling stronger, lighter and lengthened, as well as feeling connected to your own body. You will be inspired! 
What you will learn in your sessions you carry beyond your time at our studio into your everyday life. It is this lasting affect that brings such happiness and balance.
The Pilates method is a unique system of resistance training, designed to strengthen, elongate and align the body.
The focus of the work is on developing what Joseph Pilates called "The Powerhouse" – the abdomen, buttocks lower back and thighs – as the body's centre of strength and control.  Along with strengthening the extremities – arms, shoulders, legs the system was originally referred to as "Contrology".
We offer:
corporate classes

studio hire
We proudly are equipped with new Gratz equipment:  reformers, electric Chair, wunda chair, arm chair, pedipull and small barrels.  Gratz is the world's leading manufacturer of Pilates equipment based on the original equipment of Joseph Pilates. All the equipment is manufactured and shipped from New York, USA. We also have reformers, cadillac, wunda chair, spine correctors and the high barrel by Pilates Equip. They are the safest, strongest and most beautiful machines man made here in Australia.
Mimi Freccero – Studio director, polestar certified and current romana method
Born in Nice, France, Mimi started to explore the world of physical movement in 1985, as a young dancer.  She received a scholarship with Off Jazz. During the following 6 years of representing the school, performing regularly and alongside the Paris Conservatorium, she chose to train extensively in a range of dance styles including classical ballet, modern, jazz and tap.
Early in 1991 there was a family move to Sydney where she would continue to study the art of movement and body language through performance art and theatre. Later Mimi applied her knowledge to screen studies and worked as a script supervisor with some of the world's greatest directors like Baz Luhrmann, the Wachowskis, Spike Jonze and many A-list actors; developing a fine eye for attention to detail and body language.
In 2004 Mimi experienced an injury which led her to start Pilates as a client with Allan Menezes. She fell in love with 'The Method'. She found its benefits instrumental in her rehabilitation and enjoyed exercising with such refined apparatus.
By 2008 she decided to share her passion through teaching and while working alongside her mentors Eneida Serravalle and Dav Cohen she certified as a Polestar physical therapist, Level 1 professional Practitioner member of the Pilates Alliance Australasia (PAA) Subsequently, she worked in several studios around Sydney, teaching clients of all ages and physical backgrounds.
Mimi believes that one should never stop exploring and practicing what they love.  She later met Cynthia Lochard (Grand Master Teacher Trainer), who would become her mentor and started her Independent Instructor Training for the Romana Method – the world's leading certification body for True Pilates in the Traditional method. (Romana Krysanowska (1923-2013) was Joseph Pilates first and foremost protege)
In 2013 Mimi opened The Pilates Lounge, a boutique Pilates studio which offers both Pilates for rehabilitation and the authentic Romana Method, sometimes known as 'the classical method'. Clients receive full attention at all times in a calm and pleasant environment.
Today Mimi is also a mother and that has enriched her knowledge in treating pre and post natal clients as well.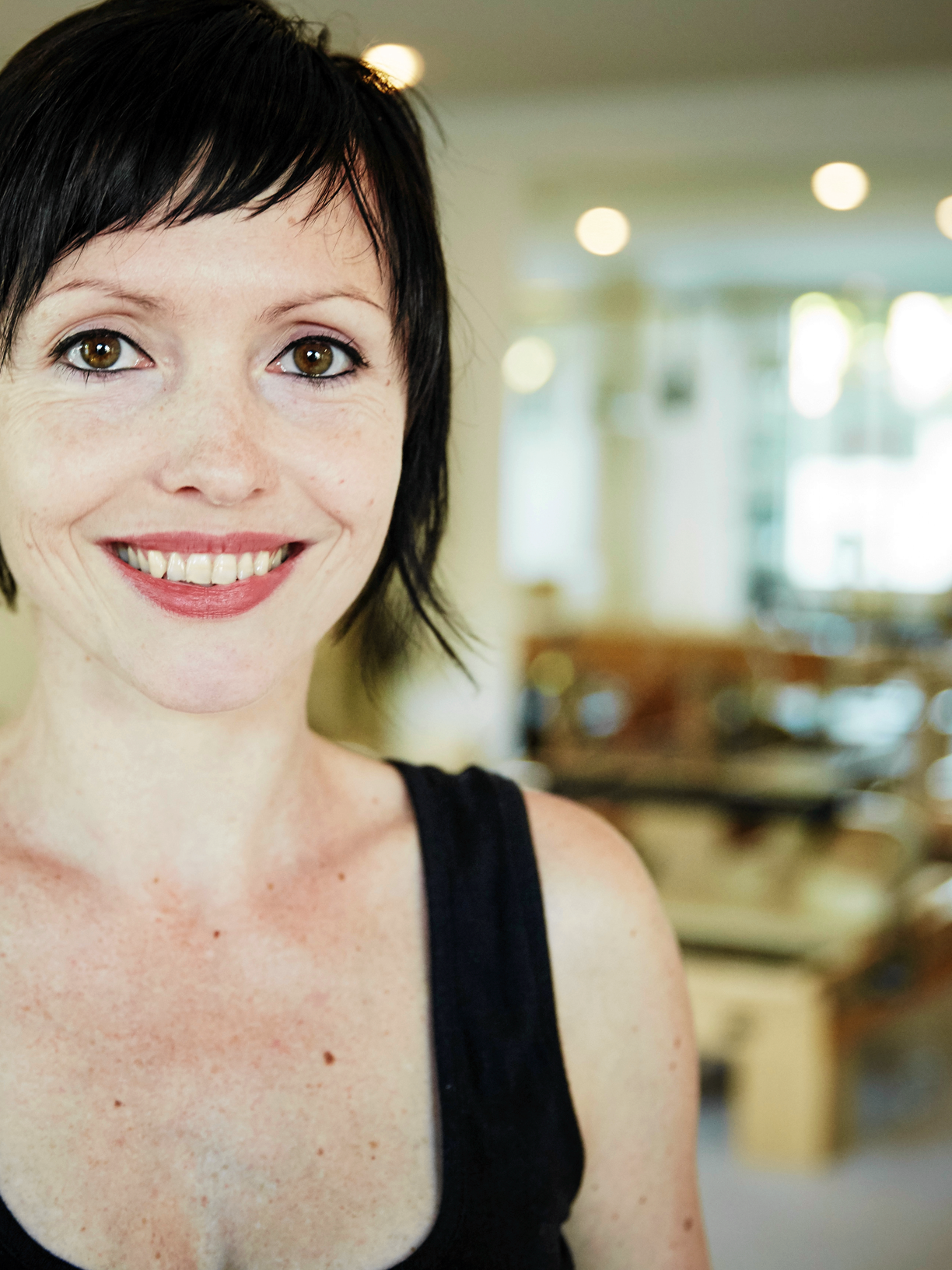 "I am thankful to my mentors for providing me with great inspiration, and to my clients for making coming to work every day a great pleasure! With gratitude to Joseph Pilates for lighting my fire." – Mimi Freccero /Studio Director
M. F